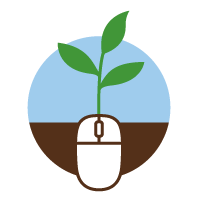 With 2009 having just arrived, We're pleased to announce an exciting new change within our own graphic design business. Our company, operating as Gough Graphics since 1999, has been renamed Sproutreach. The name change comes with a few other changes, including a re-designed website.
After almost a year of careful thought and much discussion on the subject, we've implemented the change for a number of important reasons. Perhaps the most important of these reasons is a desire for our company name to more accurately represent our core mission – to help socially and environmentally responsible organizations grow and connect with their audiences..
We're very excited about this news, but we'd love to hear what you think. Please leave a comment below with your thoughts, or as always, feel free to contact us directly.