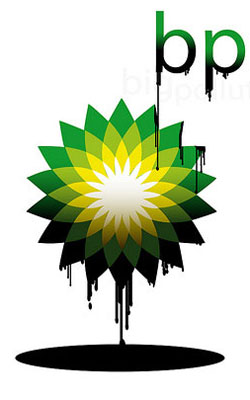 Long before the current oil spill, the largest in US history, British Petroleum was working hard to greenwash consumers into believing they were an environmentally responsible corporation. At the center of that effort is their cheerful green flower logo.
In their Behind The Logo campaign, Greenpeace UK is leading an effort to rebrand BP with a logo more befitting their operations, and is welcoming your suggestions! They've created a Flickr photostream where they're accepting submissions for revised BP logos. As sample entry is shown at right.
Last week, Greenpeace climbers scaled the front of BP's corporate headquarters in London to brand them with a logo that better suits their dirty business (photo below).