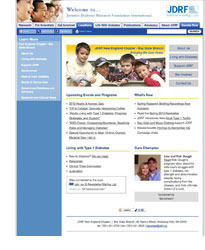 While I've been fortunate to have had a number of opportunities to lend my design services to the fight against Type 1 Diabetes, it's rare that I get a venue to use my words in that effort. However, I was recently presented with just such an opportunity.
Lisa and I are honored to be featured by the Juvenile Diabetes Research Foundation's New England Chapter / Bay State Branch as this month's Cure Champion. With that honor came a request to write a "profile" for their website. With so much emotion behind every keystroke, it was one of the the toughest writing assignments I've ever faced…and perhaps the most important.
You can read our story on the Baystate Branch's homepage this month (look for the Cure Champion section).
Update: The JDRF website has changed since this article was written, but you can still view our story, alongside other Cure Champions, on an archived record of the page (see May 2010).