If you've ever visited a website only to be frustrated by having to scroll through a slew of graphics, flash, ads or other stuff in order to get to the content you were after, Google feels your pain…and has recently revised its ranking algorithm accordingly.
Google's algorithm will now look at the layout of a webpage and the amount of content visitors see "above the fold" upon first arrival at the page. That information will now be factored into the ranking of search results. Check out this article at the Google Webmaster Central Blog for more details on this change.
This change seems like a great step toward joining search engine technology, good design principles, and improved user experience!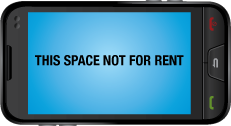 NOTE: If you've got a website and are wondering what area on your site might be considered "above the fold", grab a smartphone or tablet and visit your site with the device held horizontally. While there is certainly not universal demarcation, as the area initially visible will vary based on the your site visitor's hardware, screen settings, browser preferences, and other factors, this should give you a rough idea of your "above the fold."