If you're interested in experimental typography and those works that challenge us re-think the way we see and use lettering, and you haven't yet seen this exhibit, you'll surely be interested in "Alphabet: An Exhibition of Hand-Drawn Lettering and Experimental Typography".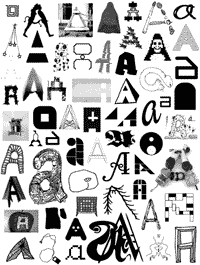 The exhibit features the works of 48 designers and artists from North America, Europe, and Asia, ranging from well-known typographers and designers to up-and-coming artists and students. The work they display represents a variety of approaches to letters and a variety of styles ranging from "graceful and polished" to "witty and unconventional."
Although this exhibit has been touring the United States and internationally for some time now (since July 2005), it continues to make the rounds and impress along the way. Don't miss a chance to catch it at a city near you (incl. Boston sometime soon?).
Alphabet will be traveling through 2007. Upcoming and past shows include:
December 2007 / Ohio Northern University / Ada, OH
July 2007 / Say It Loud / Orlando, FL
2007 TBA / Cooper Union / New York, NY
Feb-March 2007 / Minneapolis College of Art & Design /Minneapolis, MN
January 2007 / Pennsylvania College of Art & Design / Lancaster, PA
November 2006 / Northern Illinois University / DeKalb, IL
March 2006 / Workhorse Gallery / Los Angeles, CA
January-February 2006 / M-80 / Milwaukee, WI
November 2005 / Heaven Gallery / Chicago, IL
August 2005 / Lump Gallery / Raleigh, NC
July 2005 / Pinkard Gallery, Maryland Institute College of Art / Baltimore, MD
Alphabet is curated by Post Typography and organized by Artscape.
For more information on this exhibit, check out the website, or enjoy a sneak peek via the online gallery of selected samples.