I grew up in southern New Jersey. Not that it has anything to do with "growing up", but as a young adult I also spent seven summers there working as a lifeguard on the beaches of Cape May, NJ. Trust me when I tell you that the experience provided me with the opportunity to observe all kinds of human behavior. Did I mention it was New Jersey? So you can imagine my interest when I learned of NJ-based Beach 'N Billboard, an advertising company that partners with local municipalities to imprint their customers ads in the sand.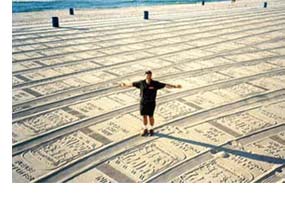 Here's how it works. Coastal cities and towns clean the beaches at night using a tractor-like vehicle that pulls behind it a mechanical rake that sifts through the sand, picking up items as small as a cigarette butts (and scaring off would-be romantic interludes). These machines typically leave a smooth blank canvas of sand in their wake. Enter the folks at B 'N B. Once a contract has been made with the city/town, these machines are fitted with "odometer-equipped, patented Beach 'N Billboard impression devices, which impress approximately 5,000 of your 12′ x 4' ads in the sand each day." The following morning, early-rising beach patrons arriving with the hopes of securing the perfect spot for their towel and chairs are met with a seemingly endless pattern of ads spread across the beach. Needless to say, these imprinted ads are quickly trampled by beach-goers as the morning progresses.
I must admit I'm not entirely sure what to make of this. On one hand, this ad method clearly has some environmental appeal. Not only does it present a paperless alternative for advertisers, and a direct link to cleaner beaches, but it also includes the nice addition of the note "Please Don't Litter" at the bottom of each ad. However, there is something about it that I find a bit irritating. Not that the beaches of NJ have ever been a sanctuary from advertisements, with the stream of banner-dragging planes buzzing over head, the sing-song melody of the ice-cream trucks driving along the adjacent boulevard, and a kaleidoscope of umbrellas emblazoned with Coca-Cola, Budweiser and who-knows-what-else up and down the beach. Nonetheless, I find this unsettling. Perhaps it is the fact that these ads are imprinted directly (albeit temporarily) onto the natural resource itself, as if to say" this day at the beach brought to you by…".
Then again, in an era where almost everything seems to be viewed as potential ad space, maybe this was inevitable. The tide, if you will.