Inspiration often comes from unexpected places. During a recent visit to Ireland, while walking through Kinvara, a small seaside village approx 15 miles south of Galway City, I noticed this utility cover in the sidewalk. Marked with "uisce" (water) and "WSCR" (water service control box), these wonderfully detailed access covers can be seen throughout much of the country. Beyond the lovely design and patterning, they convey a pride in workmanship and an attention to detail that I find inspiring.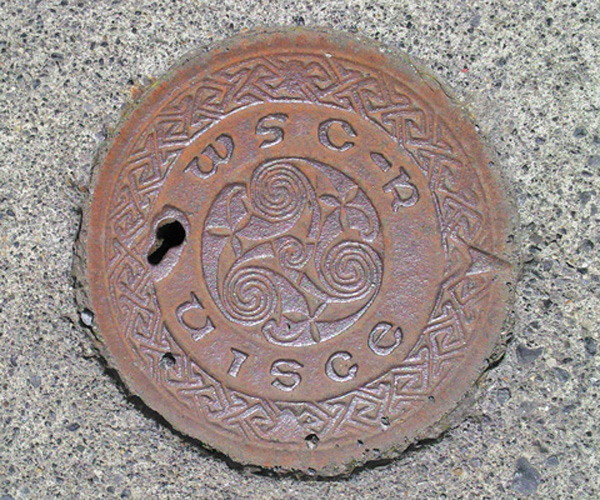 Many others have found inspiration from Ireland's manholes and other access covers, and put that inspiration to great use. One such artist is Chen Jiale, the creator of "Water Marks of Dublin," an exhibit featuring prints, made from the ancient Chinese water mark printing method, representing the variety of design to be found in Dublin's manhole covers.
Of course, such wonderful covers are in no way unique to Ireland, and the deep appreciation for them throughout the world can be seen in many places around the web. Here are just a few examples…check them out, and you might never view utility covers the same again.