It's no secret that the word "green," and even more so the phrase "go green," have entered the ranks of cringe-worthy marketing cliches, as they continue to suffer widespread abuse at the hands of countless disingenuous advertising slogans designed to cash in our desire to be good environmental citizens. So, admittedly, it was with a dose of skepticism that I learned of the USPS' "Go Green" stamps, first released a few weeks ago. However, after picking up a set at my local post office, I was immediately drawn to the wonderful illustrations and the simple messages contained in each stamp.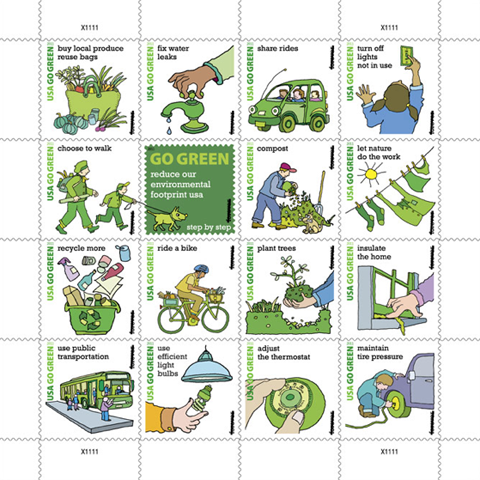 It's perhaps the simplicity of those messages, coupled with the backlash to things dubbed "go green," that has brought about some criticism of the stamps, including this rather snarky review posted by Fast Company. However, in my opinion, these stamps are right on the mark, largely BECAUSE of the simplistic messages this type of criticism points to. The stamps' messages speak to the laziest of us, saying "These are thing you can do easily. Just try these simple changes in your daily habits and you'll be making a difference in some small way." Refreshingly, there are no messages for you to buy something, except for maybe local produce, as one stamp urges.
The stamps playful illustrations are the work of San Fransisco artist Eli Noyes. Noyes spent over six months creating the set, calling upon his own daily habits in developing the messages. "I'm a San Franciscan – I go to the farmers' market. OK, farmers' market stamp. I compost. Compost stamp."
Noyes' generously allows us to peek into his process in designing these stamps by sharing some of his great work on USA Philatelic site Beyond The Perf, including some of the early concept panes, and a slideshow of his sketches for the project.
FOOTNOTE: In addition to adding some positive vibes to the task of letter mailing, these stamps have reminded me to dial back my cynicism and resist the initial urge to react skeptically to anything containing to the phrase "go green" these days.