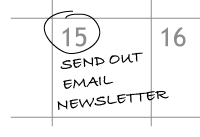 For many creative professionals, marketing oneself is perhaps the toughest and least favorite aspect of one's work. Between promo mailings, emails, cold calls, and an assortment of other techniques, it's easy to get lost, or worse yet, allow these tasks to routinely take a backseat to the countless other daily activities. Unless you have a well-thought, written plan to follow, you'll likely be inconsistent in your marketing efforts, and, consequently you'll likely see inconsistent results, at best.
For this reason, the folks at HOWdesign.com have put together a nifty marketing calendar for creatives—a Marketing To-Do List. The calendar, writes HOW's Ilise Benun, "covers activities to do daily, weekly, monthly and quarterly, all of which need to be integrated into the running of your business. All you do is plug in your specifics." You can choose from two:
The Plan for Rookies, if you're just starting out, either with a new business or maybe a new market; or
The Veteran's Plan for those with a mature business in place.
Download the 2008 Marketing Calendar (100KB PDF)
May 2008 be your most successful year yet!