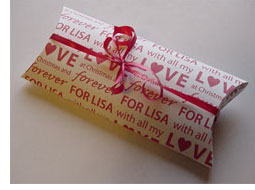 Although this is only loosely related to the central theme of this blog, I thought I'd share regardless…
Having never been very good at traditional gift wrapping, and looking for a unique way to package a gift for my wife, I turned to a DIY pillow box. Here are the simple directions, if you want to make your own:
1. Download this pillow box template (12K PDF) and print it on 8.5″x11″ card stock. (Note: I created this pattern to form a finished box size of approx. 6.5″x3″ (interior), but you could scale it up or down to make a larger or smaller box as needed.)
2. (Optional) Print custom design on reverse side. I created a typographic pattern designed to read the same both vertically and horizontally, but this is an area with endless possibilities where you can stretch your creativity.
3. (Optional) You may elect to laminate the sheet for increased durability (I chose not to laminate, to allow for the box to be recycled).
3. Score along all inside lines of pattern.
4. Cut along perimeter, following outermost lines.
5. Fold along the center line, then fold flap in, then attach flap using double-sided tape or glue.
6. Fold sides…and you're done!
Please share your ideas here, or pictures of your own pillow box creations if you give this pattern a try!
For additional guidance, check out this video tutorial.