Support Stem Cell Research Bumper Sticker
Available as a bumper sticker (10″ x 3″) or a T-shirt.
As the title of this blog entry suggests, I find type design to be fun. This particular use of typography might also be the most important design I've ever created.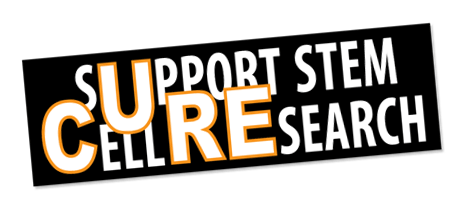 A personal connection
Stem cell research has the potential to impact many diseases and injuries, including diabetes, cancer, cardiovascular disease, Alzheimer's, Parkinson's, autoimmune disease, blood diseases, leukemia, severe burns, spinal injuries, and many more. In fact, it is estimated that stem cell research has the potential to help over 100 million Americans who suffer from these and other diseases and injuries.
Among those 100 million lives is the one that is at the center of my world. It is the life of Lisa —my beautiful wife and my hero— a life which includes Type 1 diabetes and its many complications. My support for stem cell research is rooted in my love for Lisa and my desire to help others avoid the endless struggles she bravely faces in her fight against this disease.
Want to learn more about stem cell research?
Stem cell research, while a controversial issue, is also one of today's most misunderstood issues. Regardless of one's position or beliefs, information, and the sharing of that information, is critical to improving understanding. A great place to start is tellmeaboutstemcells.org.