Community Giving Tree recycles children's clothing and baby equipment and provides other necessities such as school supplies and toiletries to low income families in Essex County, MA.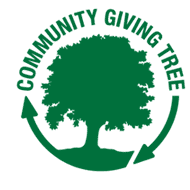 The donations that they collect and distribute keep babies safe, make children feel valued, and help families achieve self-sufficiency. By putting gently used baby equipment, toys, and clothing into the hands of deserving local families, they're also keeping these items out of the landfill.
Grand Opening Celebration: Sat., June 12
Saturday, June 12, from 10 AM to 1 PM, the nonprofit organization will celebrate the opening of their brand new Community Giving Center, located at 570 Main St, West Boxford, MA. If you're in the area, consider stopping by to learn more about the organization's mission and services and discover rewarding opportunities to get involved. The event will include a building dedication, tree planting, ribbon cutting, open house and tours.
Below: A bi-fold brochure that Sproutreach recently designed for Community Giving Tree