If you will be in the Boston area this coming weekend, please join us for an important event—the Samaritans 5K Run/Walk. On Saturday, Oct 2nd, "Team Flying Saucers" will again be gathering in Boston to participate in the "Run for Someone Else's Life", an annual awareness and fundraising event for Samaritans, Inc. (samaritanshope.org), a nonprofit organization that works to alleviate despair, isolation, distress and suicidal feelings 24 hrs a day, to educate the public about suicide prevention, and to reduce the stigma associated with suicide.
We'll be participating in loving memory of my father, Tom Gough, and celebrating the legacy of compassion he left behind.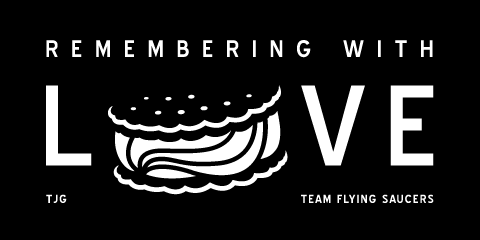 Why Flying Saucers? To read the personal story behind our team's name, visit our team page.
---
Footnote: If we could clone ourselves for the day, Lisa and I would also participate in this year's JDRF Boston Walk to Cure Diabetes, being held just down the Charles River a bit at the DCR Hatch Shell.
Please consider participating in one of these great events.