From pocket to palette in 4 simple steps
In my work as a designer, I often turn to nature in search of a little inspiration. Sometimes, when I'm really lucky, nature comes right to me with her ideas.
Such was the case this morning as Lisa and I shared our morning coffee on the deck. At my feet was a small assortment of leaves, having fallen a bit early this year as a result of below average rainfall. I grabbed a few that caught my eye and later performed the following simple steps to create a fall color palette: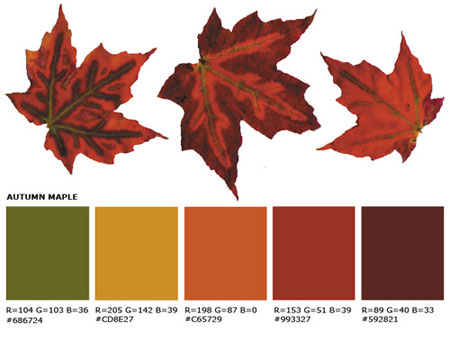 Lay the selected leaves on a flatbed scanner and scan them into Photoshop (Illustrator would work equally well)

Create a set of five containers (in this case squares) beneath the image

Select 5 colors (using eyedropper tool) directly from the leaves that you feel go well together, filling each square with one color.

Record the color values and gave the new palette a name you'll easily remember later.
Enjoy!