Pictograms (also: pictographs), with their ancestral roots in hieroglyphics, can be beautiful in their utilitarian simplicity. For example, here is a sample set used by the National Park Service (click image below for larger view). Simple, purposeful, efficient, and clear.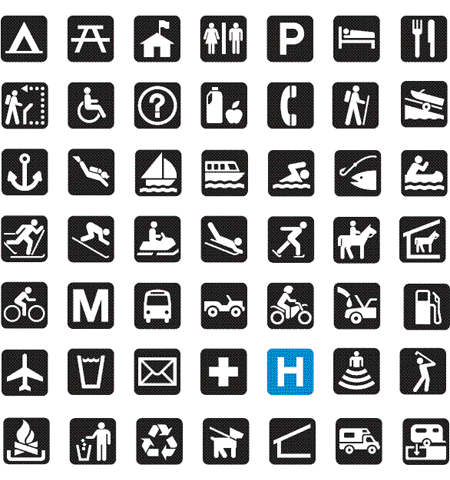 Resource: These pictograms, along with other cartographic symbols and patterns used on National Park Service maps and signs, are available as PDF files, Adobe Illustrator (CS2) format, and as True Type fonts here, along with a useful swatch library of map patterns (sand, wetlands, trees, etc.) for Adobe Illustrator (CS2).
Wonderful on screen or paper, but even better in-situ…because some things just can't be downloaded : ) See you on the trails!
National parks are the best idea we ever had. Absolutely American, absolutely democratic, they reflect us at our best rather than our worst.Wallace Stegner, 1983