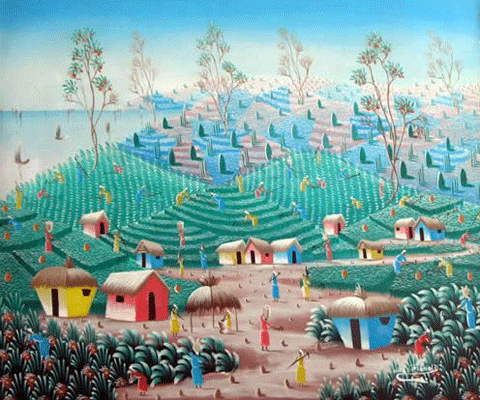 Above: This painting, "Quiet Village", a heart wrenching title in light of current affairs, is one of the many pieces of beautiful artwork by Haitian artists currently for sale via the Vassar Haiti Project. Tragically, many of the artists whose work is featured remain missing at this time.
The Vassar Haiti Project, now in it's ninth year, helps Haitian artists and artisans to be self-sustaining, by introducing their work to a worldwide audience and enabling people to purchase their artwork online or in-person at art sales and auctions.
The project's next art sale will be held on Sunday, January 31st, from 9am to 6pm at the Solomon Schechter School in Hartsdale NY. The event will feature 200 original Haitian paintings, unique gifts, silk scarves, jewelry, and iron sculpture .
Artwork can be viewed and purchased anytime through the project's online gallery. Purchases will support the artists and their families, most of whom are based in Port-au-Prince and are currently suffering in the aftermath of the earthquake.
Come support our artists, most of whom are based in Port-au-Prince and are suffering in the aftermath of the earthquake. The proceeds from this event will benefit both our education initiative as well as earthquake relief. Vassar Haiti Project members are currently involved in ongoing discussions about how we can best help our artists and galleries that have been gravely affected by the earthquake in Port-au-Prince. We are planning to establish a fund that will help displaced artists, artisans and their families. Art sales and donations alike will feed this fund.From the Vassar Haiti Project's website
Related:
Music more your thing? Check out Paste magazine's Songs for Haiti campaign with 200+ artists. Donate to help Haiti and get great songs as a thank you!